OBITUARIES: DECATUR: Jodi Monogue, 49, Wiccan high priestess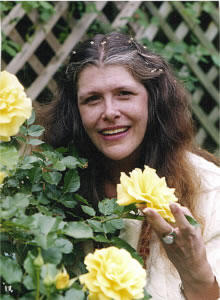 Published in the Atlanta Journal-Constitution on February 16, 2006
Holly Crenshaw – Staff
As a spiritual leader of Atlanta's Wiccan community, high priestess Lady Galadriel often found herself fielding uneducated questions about the nature-based religion to which she had dedicated her life.
Her manner was so easygoing, though, and her knowledge so vast that Lady Galadriel—also known as Jodi Monogue—was a natural at dispelling confusion about what it means to be a witch.
"She always had such an easy laugh and was absolutely delightful to be around, so she brought a lot of warmth to her role as a high priestess and witch queen," said her friend Deniz Zoeller of Sandy Springs, also known as Lady Larina.
Joanne Yokell Monogue, 49, of Decatur died Feb. 8 at Emory University Hospital of complications from a liver transplant. The body was cremated. Memorial service plans will be announced. Wages & Sons Funeral Home, Stone Mountain, is in charge of arrangements.
Ms. Monogue, who was born in Nyack, N.Y., joked in a 1999 Atlanta Journal-Constitution article that she was reared as a "good little Jewish girl" but became interested in paganism when she moved to Atlanta in the 1970s to attend Oglethorpe University.
She was working as a receptionist when she spotted an ad for a class on Wicca, also known as witchcraft or the Old Religion.
"That's how I met the goddess, and I've been in her service ever since," she said.
In 1980, she and her husband, John Monogue, a high priest known as Lord Athanor, founded the Grove of the Unicorn, an eclectic branch of Wicca that draws from a variety of cultures and Celtic, Druid and other indigenous religions.
From its initial 35 members, the grove spawned a national denomination of Wicca that has since grown to more than 1,500 participants, and Ms. Monogue rose to national leadership roles.
As an ordained high priestess, she lectured, wrote books, counseled its members and led meetings in her house that often drew dozens of people.
She worked occasional jobs outside the home, most recently as a legal assistant, and was completely dedicated to her high priestess duties, her husband said.
Charlie Moody of Doraville said she was such stimulating company that sometimes their conversations would go on for days.
"We'd break for our jobs and break to sleep, but then we'd pick right back up where we left off and go on for another six hours," he said.
Ms. Monogue was so well-informed about Egyptology that when she traveled to Egypt on vacation, bystanders hung on her every word, her husband said.
"She would point to an inscription on a wall and be talking about it so knowledgeably that people would start following her around like a tour guide until she stopped talking."
"Jodi was a walking encyclopedia of esoterica," he said. "She probably had 6,000 books on the metaphysical, and we broke three librarians trying to catalog it all. But she could tell you exactly what was in that book on the third shelf with the brown cover."
"Sometimes we'd play 'Stump the High Priestess' and I'd hit her with questions up to and including, 'What's the gestation period of an Egyptian dung beetle?' and she'd answer, 'X number of days unless it's the rainy season.' "
---
Published in Circle Magazine, Spring 2006
Lady Galadriel (Jodi Monogue), Pagan priestess and elder, has journeyed to the Summerland after a long struggle with liver disease and a transplant from which she tragically did not recover. She crossed the veil on February 8, 2006. According to her long time friend, Danae, "Lady Galadriel was a gentle and influential leader. Throughout the years she and her husband, Lord Athanor, have consistently satisfied the need for community, quality classes, and a safe haven for hundreds of Pagans." Galadriel's accomplishments include co-founding, with her husband, the Grove of the Unicorn, a Wiccan tradition, and the Autumnfest gathering. Her writings, such as the New Wiccan Book of the Law, are also part of her legacy. Lady Galadriel was a strong advocate for religious freedom for Pagans in the military, and collaborated with Lady Liberty League and other activists on this and other Pagan civil rights endeavors. Galadriel was active in Covenant of the Goddess, including serving a term as First Officer. Danae adds: "Lady Galadriel was a great organizer and a pillar of the Pagan/Wiccan community. Her passing leaves a deep legacy in the hearts of those who were gifted with her acquaintance; and her beauty, directness, rituals, and teachings will live in our memories forever. Her friends and loved ones are united in sorrow at Lady Galadriel's passing, but also in joy at having known her." A private memorial rite was held on February 11 and a larger memorial service is being planned for March 12. Condolences may be sent to her husband, Lord Athanor, Grove of the Unicorn, ***P.O. Box 13384, Atlanta, GA 30324 USA.
(*** Note: The address listed is no longer active)
From Galadriel's Personal Page
On February 8, 2006, our beloved Lady passed into the Summerlands.
Lady Galadriel is the author of several books:
The Tarot: Esoteric, Psychological and Divinatory Symbolism (1981)
A New Wiccan Book of the Law (1985, 2nd edition revised and expanded 1992)
The Magick of Incenses and Oils (1986, 2nd edition revised and expanded 2006)
Magickal and Practical Scented Gifts (2000)
Fly by Night: Understanding Projection And the Seven Planes (2004)
Auras: A Beginners Guide to Sensing, Seeing, And Working With the Etheric Body (2004)
Many of these books will be available in the Store.  Check out the Library for some of her words of wisdom.
Lady Galadriel has also written extensively on and about the Craft and its various aspects. Her work has appeared in a number of pagan publications including Green Egg, Circle Network News, Enchante, Moonstone, The Georgian Newsletter, The Dowser's Edge, and many others.
Galadriel has taught a number of workshops nationally, including "The Psychology of Ritual", "Magic, Mystery, and the Sacred", "Menarche, Motherhood and Menopause" and "Dark Goddesses: The Shadow Side of the Female Psyche", "Making Incense and Oils", and "Ritual Skills". She also organizes an annual women's retreat for exploring the Female Mysteries.
Lady Galadriel has been interviewed for newspaper, radio and television, both local and national. She has appeared in several documentaries including "Out of the Broom Closet", In Our Hands Media; and "Empowerment and the Goddess" Regina Weir Productions, produced for PBS. She was also used as the basis for the now deceased character of "Luna Moody" on the ABC daytime soap "One Life to Live".
Lady Galadriel frequently lectures to colleges and universities, civic groups, mental health professionals, and law enforcement agencies in an attempt to educate the public regarding the nature of Wicca and its beliefs. She was the invited Ceremonialist for the annual conference of the Southern Regional Chapter of the Association of Women in Psychology from 1993 – 1996. Also a member of National Women's Studies, she is currently Chair of the Women's Spirituality Taskforce for the '97 – '98 term.
Galadriel has served two terms as Public Information Officer for Dogwood Local Council of CoG, and previously served two terms as local council First Officer. After serving as National Membership Officer of Covenant of the Goddess from 1998 – 1999, Lady Galadriel went on to serve as the National First Officer of CoG (1999-2000). She is currently working on two further manuscripts, one on Egyptian Magic and Mysteries, and an encyclopedia of Tree Lore and Magick.
Funny, You Don't Look Jewitch: A Brief Autobiography
As a child of Jewish heritage, I always felt somewhat out of place. Early in life I got in trouble at Saturday School for asking "Where is God's wife"? (I did not yet know the term goddess). Even at the tender age of 5 and 6, it seemed to me that there should be a female creator as well as a male.
At the age of twelve I was in a bad accident with major trauma done to my kidneys. I was hospitalized for over 6 weeks. Shortly after my recovery I began having a series of spontaneous astral journeys, which culminated with the witnessing of my paternal grandmother's death while out of body, several months later. Trying to understand what was happening led me to Robert Monroe's work, which at that time was one of the few sources on astral projection. Working with his techniques and suggestions I was able to learn control over what was happening to me.
After finishing high school I moved to Atlanta in 1974 and began working at a local alternative newspaper. I took some classes at a local Theosophical center, and began to frequent a local coffee shop where I was first introduced to Wicca and Paganism. I signed up for classes with a local woman, who was primarily teaching Dianic material from Z. Budapest. I was much closer to being "home", but was still uncomfortable with the one-sided perspective of "Goddess Only".
Just prior to my 21st birthday in 1977, I answered an ad for another set of Wiccan classes and it was at this time that I met Lady Rhea. It was in these classes that I met my husband and working partner, and the rest, as they say, is history! We were married in April of '78 and have had 20 years of adventures together. It was also during a guided meditation in one of these classes that I made my first contact with unicorns, and was told that I would one day run a group with the unicorn as its symbol.